GYMNOCLADUS
Back to VARIETY INDEX Terms HOME
GYMNOCLADUS
(Plant heights are given at maturity)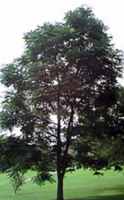 Kentucky Coffee Tree (Nicker Tree, Chicot) Gymnocladus dioicus - Very tolerant tree with pink spring foliage, progressing to green, then yellow in the fall. Native to central and eastern US. Spring blooms are greenish white and mature into long seed pods, the seeds of which were once roasted and used as a coffee subsititute. Hardy to -40F (-34.4C); height: 50ft.
| | |
| --- | --- |
| #1933 Packet $5.50, Approximately 20 seeds | |
| #P1933H 12-18inch seedling $50.95 | |
| #P6-1933H (12-18inch seedlings) Six trees for $70.95 | |
TIP: ACID SEED SCARIFICATION
Common acid treatments for seeds use sulfuric or gibberellic acid solutions or may use vinegar. Handling of concentrated acid requires care, (such as: Safe storage, Protective clothing, Ventilation, and to Never add water to acid;-always add the acid to the water, etc.) so if you are not experienced with this, a little study is in order. Vinegar is safer but may not be strong enough for all species and requires a longer soaking time. Seeds are placed in a glass container and covered with the acid solution. The seeds are gently stirred with a glass rod and allowed to soak for 10 minutes to several hours, depending on the species. Thicker and harder seed coats require stronger acid solutions and/or longer soak time. After the seeds are removed they should be washed and stratified.
see also: NATURAL SCARIFICATION, MECHANICAL SCARIFICATION, HOT WATER SCARIFICATION
ORDER EARLY!
See TERMS

Back to VARIETY INDEX Terms HOME

If you have arrived in someone else's frame, or can not see all of the other information available on richfarmgarden.com Click on logo to enter from beginning