CHAENOMELES
(Plant heights are given at maturity)
Back to VARIETY INDEX Terms HOME



Japanese Quince - Chaenomeles japonica rubra - Early blooming shrub with red to orange blooms preceeding the glossy leaves in the spring. Good specimen or hedge planting. Very tolerant of heat, drought, and cold. Hardy to -30F (-34.4C); height: 3ft.
| | |
| --- | --- |
| #1761 Packet, Approximately 100 seeds $6.50 | |
| #P1761H 12 - 18in. seedling $16.95 | |
| #P3-1761H (12 - 18in. seedlings) Three plants for $24.95 | |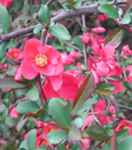 Texas Scarlet Quince - Chanomeles speciosa 'Texas Scarlet' - This flowering quince makes a spectacular sho in the spring with its bright red fragrant blooms. Few thorns with a low rounded habit. Hardy to -20F (-28.8C); height: 3ft. (4ft. spread)
| | |
| --- | --- |
| #P1761H 2 - 3 ft. seedling $29.99 | |
| #P4-1761H (2 - 3 ft. seedlings) Four seedlings for $50.99 | |
ORDER EARLY!
See TERMS

Back to VARIETY INDEX Terms HOME

If you have arrived in someone else's frame, or can not see all of the other information available on richfarmgarden.com Click on logo to enter from beginning