CARROT

CARROT
(Plant heights are given at maturity)
SEED SPECS: Approximately 11,000 seeds per ounce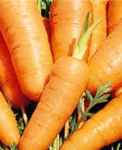 Danvers Half Long (75 days) Red -orange roots with blunted ends are uniform. Excellent storage variety.
| | |
| --- | --- |
| #1245 Packet $3.50 Approximately 500 seeds | |
| #B4z-1245 Bulk seed 4 oz. $33.33 | |
| #B1-1245 Bulk seed 1 lb. $63.33 | |


Imperator (65 days) Long tapered roots with blunted ends have no cores and are sweet and crisp.
| | |
| --- | --- |
| #221 Packet $3.50 Approximately 500 seeds | |
| #B4z-221 Bulk seed 4oz $33.33 | |
| #B1-221 Bulk seed 1 lb. $63.33 | |


Kuttiger (70 days) This thick white carrot is very similar to those prized in the vegetable markets of Europe in the 1700s. Roots measure 6-8 inches long and have a mild flavor. Store very well.
| | |
| --- | --- |
| #679 Packet $5.50 Approximately 100 seeds | |


Little Finger (50-65 days) The perfect variety for baby carrots, this early golden orange French Nantes type has almost no core and is great for canning, freezing, pickling, or eating.
| | |
| --- | --- |
| #220 Packet $3.50 Approximately 300 seeds | |
| #B4z-220 Bulk seed 4oz $19.33 | |
| #B1-220 Bulk seed 1 lb. $33.33 | |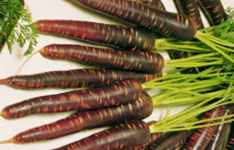 Purple Haze (65 days) Purple skin and a bright orange interior make this one of the prettiest carrots ever. Unlike earlier varieties bred for high beta carotene content, this one is sweet and juicy, with a slight spicy flavor.
| | |
| --- | --- |
| #4060 Packet $6.50 Approximately 100 seeds | |
| #B4z-4060 Bulk seed 4oz $83.33 | |
| #B1-4060 Bulk seed 1 lb. $193.33 | |

Scarlet Nantes (65-75 days) Good as a fresh eating carrot, this pretty carrot is long and is nearly coreless. Good keeper.
| | |
| --- | --- |
| #428 Packet $3.50 Approximately 300 seeds | |
| #B4z-428 Bulk seed 4oz $19.95 | |
| #B1-428 Bulk seed 1 lb. $50.95 | |

Yellowstone (75 days) HYBRID - Yellow roots are 9 inches long and have an excellent flavor. Stores in the ground until mid-winter.
| | |
| --- | --- |
| #427 Packet $3.50 Approximately 100 seeds | |


Rich Earth Carrot Mix - All colors and sizes
| | |
| --- | --- |
| #427 Packet $4.50 Approximately 500 seeds | |


There is great diversity in the vegetable varieties that we offer; which makes the general information provided only valuable as adjustable guidelines. This may also affect your seed planting and propagation strategies and the germination rates under your planting conditions may vary from the seed lot test results. The following soil temperature data is for carrots in general. Temperatures are average daytime from planting to emergence. Percentage is average germination rate. Days is number of days to emergence.
41ºF x 48% x 51 days; 50ºF x 93% x 17 days; 59ºF x 95% x 10 days; 68ºF x 96% x 7 days; 77ºF x 96% x 6 days; 86ºF x 95% x 6 days; 95ºF x 74% x 9 days;

TIPS: A KITCHEN-GARDEN PHILOSOPHY
My Grandfather formed a partnership in 1928 with his brother to operate a farm on the Rio Grande. The first year he flew to New York to arrange for the orange crop to be transported to market by air. When he returned to the farm he found that his brother had received shipment of $10,000 worth of seed and had put it in an open and unwatched barn for storage. When he told me the story, he said that he had seriously considered dissolving the partnership that day. I do a lot of thinking in my Kitchen-Garden which is smaller scale than my Grandfather's farm, but I take the risk management very seriously. I pat myself on the back for being able to see the larger picture, even as the picture changes, and what was I thinking? Now it's right, pat pat. When I was first married, my beautiful young wife asked me to turn over the dirt in the back yard with my shovel so she could plant beans. I said "Don't you know that the store down the street has canned beans on sale every year." At my job wage rate we could fill another house with cans for the same time that I would spend in this garden. But she said that they tasted better and I enjoyed spending the time with her. I've been enjoying that time and that taste for a lot of years now, and just as hard as measuring quality time or a taste, is quantifying security issues and food quality health issues that I have come to appreciate. I feel productive as I hoe and pull weeds and wonder why I paid for so many years to go to the gym and why I mowed grass on this spot. But the big picture is that this garden is about my enjoyment and my health, and I have come to feel that the main health benefit is the enjoyment. So why do I fret so much when I must thin out the carrot row. Between the weather and the birds, counting on a good crop of carrots can be more risky if you don't plant a little close. But now I am doing murder. Chopping out the weeds is good farming and citizenship, but pulling a carrot hurts. Till I found from my constant study of other people's experiences, that the "weed" had value too, and I was already guilty of boticide. One year I had to leave town on important business and fretted the whole trip that the beans in the Kitchen-Garden were not going to be picked in time. But there were still plenty in the freezer. Now I have plenty of gardener friends who think the same things are important in Kitchen-Gardening methods that I do. I know more about the foods that I eat and possible good food sources are becoming more available again. Come home, feed the beans to the cows, and get over it.
ORDER EARLY!
See TERMS

Back to VARIETY INDEX Terms HOME

If you have arrived in someone else's frame, or can not see all of the other information available on richfarmgarden.com Click on logo to enter from beginning