ARCTOTIS
Back to VARIETY INDEX Terms HOME
ARCTOTIS
(Plant heights are given at maturity)

African Daisy, Gousblom

Annual or tender perennial native African herbaceous plants, members of the Daisy family, Compositae (Asteraceae), with woolly leaves and stems supporting single blooms. They make excellent potted plants and attractive border flowers.

Arctotis is easily propagated by sowing seeds in a light mix of peat and sand. Sow seeds in pots or trays. Keep moist at 50-55F. Transplant seedlings to larger containers when they reach about 2 inches in height. Transplant outdoors when all danger of frost has passed. Space seedlings 15-20 inches apart each way. Seeds may also be sown in the fall for winter container planting. Seeds are sown in September for late winter flowering. These plants should be kept at a temperature no lower than 45F.

Hardy to 30F(-6.6C)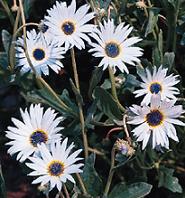 African Blue Eyed Daisy - Arctotis grandis (stoechadifolia) -Snowy white blooms atop strong stems make this an excellent cut flower type. Height: 20 inches Spread: 24"

| | |
| --- | --- |
| #5845 Packet $3.50 Approximately 100 seeds | |
| #Bm-5845 Bulk seed $10.50 Approximately 1000 seeds | |
Harlequin Mix - Arctotis x hybrida - Showy blend of colors on string stems with large 3-4 inch blooms. Great container plant.
Height: 15 inches Spread: 18 inches

| | |
| --- | --- |
| #5846 Packet $3.50 Approximately 100 seeds | |
| #Bm-5846 Bulk seed $10.50 Approximately 1000 seeds | |
ORDER EARLY!
See TERMS

Back to VARIETY INDEX Terms HOME

If you have arrived in someone else's frame, or can not see all of the other information available on richfarmgarden.com Click on logo to enter from beginning